Transcending boundaries and loving it
St. Moritz can count on reliable snow conditions at 1856 meters above sea level, in the midst of the stunning Engadine lake scenery. The St. Moritz sun rarely has a day off and shines brightly for 322 days a year. The pleasantly dry "champagne climate" is as legendary as the next exclusivity:
The Olympic Bob Run in St. Moritz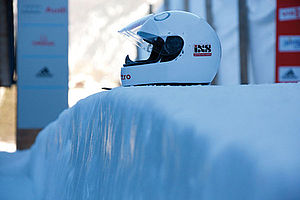 At 1.7 kilometers in length, the high-speed ice track is one of the longest and fastest bob runs anywhere – and the only natural ice track in the world.
The world's best athletes regularly battle for World Cup points. And European and World championships and two Olympic competitions have been decided on the legendary bob track since way back.
And now it's your turn: icerunner events offers you and your guests the exclusive experience to race down the Olympic Bob Run yourself. As a pilot in the Monobob. You and the ice track: St. Moritz is waiting for you!
Your guests will be assisted by ice track professionals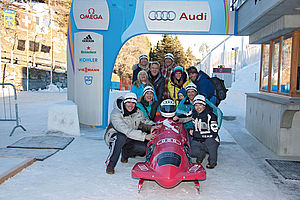 A team of experienced professionals will look after your guests. First and foremost, Gregor Stähli as the co-owner of icerunner ltd. and the most successful Swiss skeleton racer with immense experience on the St. Moritz ice track. His successes and awards as a skeleton professional:
10 World Championship medals, 3 European Championship medals, 11 Swiss Championship titles and two bronze medals at the Olympic Games in 2002 at Salt Lake City and in 2006 at Turin. In addition, the skeleton professional has also celebrated successes as a bob racer at St. Moritz: Swiss Vice Champion, category B.
As you can see, your guests will be able to enjoy their solo runs down the ice track with excellent preparation. Superbly guided and looked after by the best athletes and professionals.
Ice an Snow: this is what dreams are made of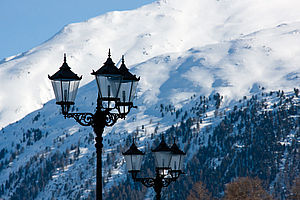 Ice and snow in St. Moritz feel different from anywhere else. For many reasons: a fairytale setting, the sunshine, the exclusive atmosphere, dream hotels, culinary highlights, the Olympic Bob Run and so much more.
Without question, we offer you and your guests at St. Moritz a supporting program matching the thrills of the solo descents in the ice track. And we will make sure that you get to know St. Moritz from its best side!
---
A powerful program in St. Moritz: take a glance at the details