Prominent speakers showcasing the key points
Each participant is his own pilot and steers the Monobob through the ice track down to the valley on his own. After two descents on the first day, your guests will be reliving indescribable moments and successfully mastered challenges during the evening. This is the time to recall the day's events at a magnificent dinner.
Motivation, mental strength and performance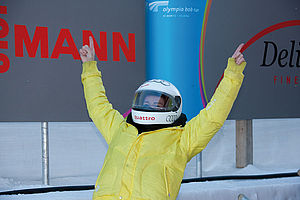 Relaxation, enjoyment and good conversations are most certainly included. How about an extra highlight: this mood and experiencing an encounter with yourself may be productively shared with others for the benefit of everybody involved.
All participants have conquered the ice track – and thus also themselves in a certain way. The coaching by our professionals, motivation and mental strength have led to performances and results which have to be described as absolutely exceptional. Is it possible to take the core ingredients of this recipe for success back to everyday business life?
Yes, absolutely – with a strong talk
A talk on a topic about maximum achievement. And the conditions that make top performances and thus success at all possible. In sport, everyday life and also in business. A lively presentation by a well-known world-class sports personality – will round off the first day in St. Moritz perfectly.
Who may we invite to speak to you?
Urs Meier, who refereed 883 football games over 27 years thus consolidating a fine international reputation?
Tanja Frieden, who fought hard for innumerable awards, cups and an Olympic gold medal in snowboarding?
Roberto Triulzi, who celebrated international successes as an ice hockey ace with the Swiss national team?
Heinz Frei, who time and again proved at the Paralympics that wheelchair racing and gold medals go perfectly well together?
Our outstanding relations in the world of high-performance sport open many doors. We guarantee strong personalities and captivating speakers.
---
Let us know what you have in mind for an individualized supporting program